Legal Online Sports Betting in New Zealand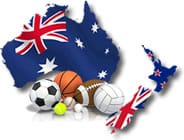 Sports betting is considered a controversial form of gambling entertainment in some parts of the world, such as the United States. New Zealand seems to have a much more positive attitude concerning sportsbook gambling, and has successfully integrated it into their gambling industry. This page of our guide will take a look at the legalities surrounding betting on sports in New Zealand, and what opportunities Kiwis have for enjoying legally sanctioned betting options.
This page will discuss both locally licensed destinations as well as legitimately licensed and regulated offshore sportsbooks that accept New Zealand residents. Legally sanctioned offshore sportsbooks are a valuable commodity within the legal New Zealand online gambling industry, as are New Zealand online casinos and New Zealand online poker sites. More recently, we have added a guide to another valuable niche in the gambling market for Kiwis: legal New Zealand online housies.
Is Sports Betting Legal in New Zealand In 2023?
It is illegal to operate as a bookmaker in New Zealand according to the Gambling Act 2003. However, racing and sports betting entertainment offered through the Racing Board of New Zealand under the Racing Act 2003 is allowed as an exception to the restrictions in the Gambling Act. The NZRB conducts totalisator and fixed odds racing and sports betting in accordance to established betting rules under the TAB brand.
Legal sports betting is available to Kiwis through multiple platforms, including betting by telephone, interactive betting remotely through Sky Digital TV, and online betting through the TAB website. Any local NZ based bookmaking services that have not been sanctioned by the New Zealand Racing Board are not legal betting destinations. There are also TAB retail outlets for placing bets in person.
According to New Zealand online gambling laws, it is not legal to own or operate an online sportsbook within New Zealand's borders. However, it is also not a crime to place bets online at licensed and regulated online sports betting destinations that are located outside of NZ borders and that accept customers from New Zealand.  There are a handful of legally sanctioned offshore sportsbooks that accept bets from New Zealand citizens.
Best Reputable Online Sportsbooks That Accept New Zealanders In 2023
The industry's leading options for legal online sports betting in New Zealand will be included in this guide. They will have each been placed through an intense review process by our team of professional analysts, and have been vetted for legitimacy, security and quality of services. They will also all accept New Zealand bettors and deliver a premium betting experience.
| Site Name | Bonus | NZ | Visit Site |
| --- | --- | --- | --- |
| | 50% Max $2,500 | | Play Now |
Will I Be Breaking the Law If I Place Bets at A Sportsbook Located Outside of New Zealand?
We are pleased to find that the Department of Internal Affairs has issued a statement on their website concerning the legality of New Zealand citizens participating in offshore gambling online. They effectively clarify that it is perfectly legal for Kiwis to enjoy real money betting at legally licensed and regulated gambling sites that are based outside of New Zealand. This applies to online sports betting at offshore sportsbooks as well. So the answer is no, you will not be breaking the law if you engage in offshore internet gambling that is provided through a legitimately licensed and regulated gambling site.
Who Regulates Sports Betting in New Zealand?
Sports betting in NZ is governed by the New Zealand Racing Board under the Racing Act 2003. The NZRB is responsible for establishing policy and regulations, and conducting the nation's locally licensed racing and sports betting activities. As far as the legal offshore sportsbooks you see featured in this guide, they are regulated by the governing jurisdiction that administered their licensing and compliance certifications.
What Types of Sports Can I Bet on in New Zealand?
Both the locally licensed sportsbooks and the legal offshore sportsbooks offer a hearty selection of sports events, betting lines and wagering options. They include a wide range of games, matches and events, to include American football, MLB baseball, basketball, boxing, cricket, cycling, football (soccer), golf, hockey, mixed martial arts, motorsports, netball, rugby, surfing and tennis. Some of the offshore sportsbooks also include betting lines for politics, entertainment, celebrity gossip and current events.
Both local and offshore sportsbooks typically cover racebook events for horses, dogs and motorsports. In addition, you will find live betting options available at sportsbooks in New Zealand and the offshore destinations. The offshore sportsbooks that we have recommended in this guide all offer a high quality mobile application as well so that you can bet from your smartphone or tablet as well.
Are Online Sportsbook Bonuses Legitimate?
You will typically find sports betting bonuses at the offshore sportsbooks as opposed to the locally licensed destinations. Bonuses are offered to new customers through a sign up bonus and to returning customers through reload bonuses and special seasonal promotions. These bonuses all carry wagering requirements that must be met in order for bettors to claim winnings associated with the bonus. We have verified the legitimacy of all bonuses at the sportsbooks that we recommend in this guide. All of the terms and conditions of the bonus offers are reasonable and in line with industry standards.