Legal Online Housie Games in New Zealand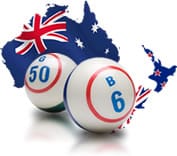 Housie, also known as bingo, is a very popular pastime in New Zealand. It is governed by the Gambling Act of 2003 and in accordance with the Gambling Act Game Rules 2004, also referred to as the Housie Rules. Most of the bingo games played in New Zealand feature 90-ball bingo, though 75 and 80-ball bingo are also regularly available.
Depending on the amount of money that is involved, housie in New Zealand is categorized as either Class 1, Class 2 or Class 3 games. Each class carries its own set of regulations. Bingo has also become an integral segment of the legal New Zealand online gambling market.
Is Online Housie Legal in New Zealand?
The NZ Gambling Act 2003 prohibits remote interactive gambling; hence there are not any online housie sites or online bingo sites that are operating out of New Zealand. Luckily this does not eliminate all options available to Kiwis. The Department of Internal Affairs has determined that it is not illegal for New Zealand citizens to participate in licensed and regulated offshore gambling.
This means that players from NZ are able to legally enjoy online housie at legally sanctioned offshore bingo sites. The same holds true for legal New Zealand poker sites, casinos, and sportsbooks. As long as the sites are legally licensed and regulated offshore, then placing bets at these destinations does not violate New Zealand online gambling laws.
Top Legal Online Bingo Sites For New Zealand Players
Here we will list the top rated online housie sites that accept players from New Zealand. We are involved in the evaluation phase for this step of our process, so we are still reviewing the various brands to determine which bingo halls worthy of inclusion in our guide.  Be sure to check back for a list of recommendations from industry professionals.
What Games Will I Find at Legal Offshore Bingo Sites Accepting Kiwis?
The most common bingo games offered by online bingo sites are 75 ball, 80 ball and 90 ball bingo. You will typically find hundreds of variations of these bingo games through varying patterns. There are also chat games available. These extra games take place in between and during bingo games inside of the site's various chat rooms.
They are overseen by a trained moderator and often include the chance to win additional prizes. Chat games allow players to interact with each other and with the moderator, providing a social component you don't find with other types of online gambling. Lastly, it is common for premium bingo sites to also offer video poker, roulette, slots, or scratch cards.
The casino games add a little variety, give players not interested in the chat games something to do in between bingo games, and can give players a break from the bingo scene without having to leave and visit one of the separate legal New Zealand online casinos.
How Much Does It Cost To Play Bingo Online
Playing housie or bingo online is hands down one of the least expensive types of online gambling. In fact, there are a lot of opportunities to play housie for free through the many daily deals and promotions that our recommended bingo sites offer. For paid housie games, prices range from one penny up to high roller stats.
You can purchase as many cards as you like thanks to the automatic dauber that manages your cards for you during the game. These bingo sites purposely provide a wide range of financial buy-ins so that players on any type of budget can afford to enjoy themselves. Many players come more for the social benefits of online bingo even more than the prizes, therefor these online bingo halls must ensure there are plenty of games that require a minimal buy-in so that any player can afford to engage.
Are All New Zealand Friendly Online Bingo Sites Legitimate?
We are sorry to say that no, not all of the bingo sites that accept players from New Zealand are guaranteed to be reputable or trustworthy destinations. It can actually be quite risky to go out and search for an online bingo site without some key information on hand.
We suggest obtaining input from industry professionals, such as ourselves, prior to selecting an online bingo gaming destination at which to play. Our team of analysts has extensive experience in vetting online gambling sites including verifying their legitimacy within the industry concerning licensing and compliance certifications, determining the quality of their security profile, interface, and betting services, and evaluating the efficiency of their banking suite, administrative services, and customer support team.
We also verify the authenticity of their bonus offers and promotions, obtain feedback from other players and industry professionals, and spend a great deal of time as customers on each site we review. We come at our vetting process from our angles and ensure that it is a very intense process indeed.
Our strategy has effectively exposed questionable and undesirable betting sites that players should avoid as well as revealed the truly high-quality destinations that operate legally and ethically while delivering a premium gaming experience on all levels. All of our recommendations fall into this category.  We offer similar recommendations for legal New Zealand online sportsbooks, casinos, and poker rooms as well.