Legal Online Poker Sites in New Zealand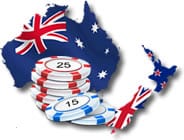 Playing poker for real money is legal in New Zealand. Poker games are conducted at the licensed brick and mortar casinos located throughout the region. If conditions are met, real money poker is also legal in private settings and other non-casino environments. The Gambling Act 2003 governs poker games in New Zealand, and determines the applicable classification of the games and applicable policies that poker games must adhere to. Online poker has a presence in the New Zealand gambling market, though not through locally licensed destinations. This is similar to the circumstances concerning New Zealand online casinos.  This guide to will take a look at the nation's opportunities for legally enjoying poker both online and offline. It is an integral segment of the legal New Zealand online gambling market.
Is Online Poker Legal in New Zealand?
The New Zealand Gambling Act does prohibit remote interactive gaming, which means that you will not find any legally sanctioned online poker rooms operating within New Zealand. The Department of Internal Affairs, the principal governing agency responsible for the regulation of gambling in the country, has made it crystal clear that engaging in legally licensed offshore poker gaming is not illegal and does not violate any type of New Zealand online gambling laws. This means that enjoying online poker gaming at a licensed and regulated poker site that is located outside of New Zealand is perfectly legal for Kiwis. The poker sites you see on this page are all legitimately licensed and regulated by a respected governing jurisdiction, and are operating legally within the industry when offering their poker gaming services to players in New Zealand. The same applies to other venues, including legal New Zealand online bingo, casinos and sportsbooks.
The Best Legal Online Poker Sites For New Zealand Players In 2023
The Kiwi friendly poker sites below are among the industry's top rated international poker rooms. They are legitimately licensed and regulated, and are operating legally within the industry. Each of these poker sites have been put through an intense review process to determine their legitimacy, quality and value, which ultimately determine whether they will be considered for inclusion in this guide. They offer attractive welcome bonuses and reload bonus offers, utilize sophisticated security protocols and use an industry leading software solution to power a most elegant online poker gaming experience.  You will find similar information for legal New Zealand sports betting and casino gambling.
| Site Name | Bonus | NZ | Visit Site |
| --- | --- | --- | --- |
| | 100% Max $2,500 | | Play Now |
Poker Gambling Laws in New Zealand
The Gambling Act of 2003 allows poker gambling within the borders of New Zealand in accordance with specific policies and regulations. Brick and mortar casinos are the most likely destinations at which to find viable real money poker games for players seeking locally licensed options. It is also legal for casinos and private gambling functions to offer poker tournaments to players.
What Kinds of Poker Games Are Available at Legal Online Poker Sites Accepting New Zealand Players?
The premium online poker sites that are legally available to New Zealand players offer a nice selection of the most popular games, including multiple variations of Omaha, 5 & 7 card stud, Texas hold'em and others. You will find feature rich options such as multi-table or multi-hand games, note taking, statistical log, etc. The games are powered through high end online gambling software that is managed through RNG technology (random number generator). This type of software is the most effective way to achieve truly random results. All of the poker sites we recommend in this guide are consistently monitored for fair gaming practices through the auditing of their software solutions. They each hold authentic compliance certificates.
Do Legal Online Poker Sites Accepting NZ Players Offer Any Bonuses?
While we cannot speak for all poker sites, the brands featured in this guide all offer a generous new player bonus and various reload bonuses to keep you coming back. Poker bonuses are handled differently than online casino bonuses. When claiming a new player or reload bonus on a poker site, the bonus money is allocated in portions. The more you play, the more bonus money you earn. There are also a number of promotions offered through tournaments and special games as well. Though poker bonuses are distributed differently than casino bonuses, they are still usually structured as a match bonus. This means the poker site offers to match a certain percentage of your deposit (initial or reload), up to a specific maximum amount.
Online Poker Tournaments For Kiwis
One of the nicest perks to playing poker online is access to the tournament platform. These tournaments are often available around the clock, and include special events with significant prize pools. Some tournaments have an entrance fee, while others are completely free. It is not unheard of for poker sites to offer free tournament entrance to specific events as a new player incentive. Within the tournament schedule, you will often see qualifiers to prestigious events, such as the annual WSOP. In this type of tournament event, players can participate online to win entrance into a live event in Vegas or around the world. You may remember Chris Moneymaker who won entrance into the WSOP from a qualifier at an online poker site. He later went on to win the WSOP title and millions of dollars. This success story helped to legitimize the online poker industry.